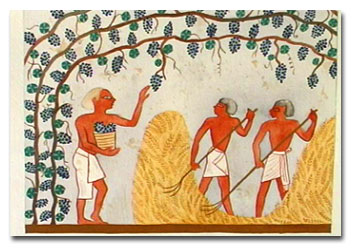 Food connects us to the peoples of ancient civilizations; modern science shows us how these foods can keep us healthy.

Many of the foods we eat connect us to our ancient ancestors. Ancient peoples searched for foods that would sustain them and bring them health. As agriculture developed, some of these same foods were brought under cultivation, and are produced in large quantities today.





This video explores

the foods eaten by ancient peoples

the development of agriculture

the discovery in the 19th and 20th centuries of beneficial compounds in these ancient foods, a process continuing in the new millennium

the evolution of nutrition from the 1800s to the new millennium, including the new phytochemicals

the importance of fruits, vegetables, whole grains, nuts, beans and other foods from plants

the value of physical activity.
Sun-dried raisins are examined as an example of an ancient food with modern benefits. A unique combination of old and new links the viewer to these ancient peoples while promoting healthy food choices based on modern science.
17 minutes, 6th grade to adult.
Written and produced by Gene A Spiller, PhD
Distributed by the Sphera Foundation
(559) 897-7130
To order your free video/DVD please contact the Sphera Foundation at the telephone number listed above.